marnanel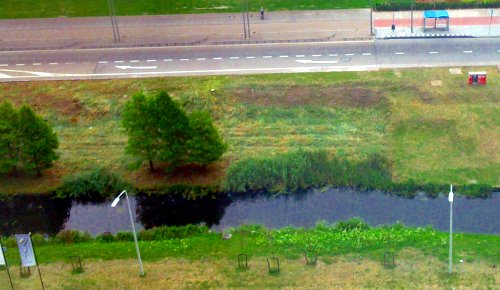 You and I spend our lives beneath the heavens, beneath the stars; in some sense we all live in a nether land, and we are all inhabitants of the Low Countries. I therefore surmise that I have arrived at the centre of the planet.
In England, you will sometimes see a bee drawn into the glaze on a toilet bowl. This is a Latin pun: the word for bee is
apis
. In the toilets at Schiphol I saw such a symbol, and had to rush outside and find a Dutch person to verify that the same pun works in Dutch. (It does.)
Last week, I heard that the house of my great-grandmother, Nono, had changed hands and name. This is unfortunate: it's in the village of
Turvey
, and Nono had the good sense to name it Topsy. Her postal address was therefore
Topsy, Turvey, Bedfordshire.
. The new owners do not share her sense of humour.
On Monday, very little happened, except that I broke my laptop. I was certainly in the right place to do so, because four or five people congregated to help me bring it back online. One person from Canonical said, "You need a bootable USB key. Just shout and ask for one." When I demurred, he shouted, and one was lying on the desk in front of me within ten seconds.
We went to Chinatown for lunch, and ate dim sum. The afternoon was spent working on xzibit, with red wine substituted for coffee, and I made a rather homesick call to
Fin
and
Rio
. I'm pleased to report that
you can now share menus in xzibit.
I would like to give a lightning talk, but I think I've left it a bit late to register.
After work I walked back to the hotel with
Danielle
, stopping at a supermarket to buy licorice, bread, and some of that hard, sour cheese the Dutch are so fond of. Then I went back to my room and ate cheese sandwiches, and hacked until I fell asleep.