marnanel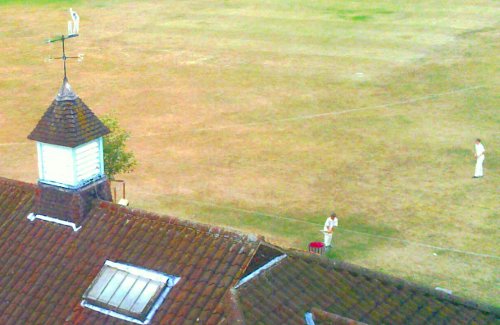 This was a game of scratch cricket on Parker's Piece I watched from my hotel room window. The building in the foreground is Hobb's Pavilion.
Rupert Brooke
wrote
:

For Cambridge people rarely smile,
Being urban, squat, and packed with guile.


Gentle reader, am I urban, squat, and packed with guile? I suppose I must be. One thing I have learned anew during the past week is that I am indeed Cambridge people, and will probably always be so. I feel more at home here than anywhere on earth, even the town in which I grew up. I am the starfish and this is the sea, and I need to come back more regularly for fear of drying up.
On Friday night I went home by train to my parents' house, where we ate pie and drank beer. On Saturday morning we went again to see my grandfather. He seemed somehow older, far more than four days older: his eyes were tired and his speech lacked hope. He talked to me about family history, and poetry, and the war. When the others had left he asked me whether I was, in fact, happily married. There was none of the solemn joking and laughter which usually fills his thoughts; he seems to be preparing to leave. I told him I would try to be back in the autumn. "If I'm spared," he said.
Later we went with my grandmother to
the Crown in Shillington
, where she bought us a very good lunch, and we ate it sitting in the sunshine while we talked. The ringers in the belltower next to the pub were ringing call changes for a wedding throughout the meal: if you had decided to arrange a perfect meal for me as a treat, you would not have gone far wrong with this one. I do worry about my grandmother, and how she will cope when her husband is gone. I'm not sure how I can help.
My mother had kindly washed my clothes when I came back to their house. I packed them up and returned to Cambridge, and slept for a while, then walked to Churchill where Collabora were throwing a party, with much food and good beer. I left early and came back to the hotel to get ready to fly to Amsterdam tomorrow. It seems so strange to be leaving.