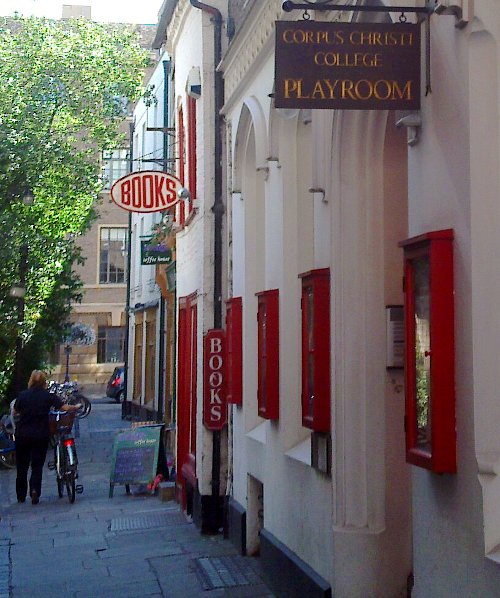 This building is rather near where I work. In the real world, which Cambridge occasionally approximates, I assume it means a theatre. However, I sometimes imagine that behind that door is a ballpit and bouncy castle kept ready for the relaxation of the students of
Corpus
after a hard day at their books.
Yesterday, as we were walking back from lunch on Christ's Pieces, the bells at
St Edward's
started ringing. It turned out to be a
quarter peal of St Clements College Bob Major
, which I enjoyed for the next three-quarters of an hour sitting at my desk. (It was a successful attempt; the striking was a bit off.) I'm a little regretful that this visit is not going to involve ringing; after work, I heard bells and went to investigate, but they stopped before I found the tower, and did not continue.
Interesting fact about St Edward's: it is, as far as I know, the only Anglican church in Cambridge not part of the diocese of Ely; it reports only to the Crown. This is known as a "royal peculiar". [Update: Apart from the college chapels; thanks for reminding me to clarify this, emperor]
Last night was the only night this week I hadn't planned to do anything in particular, and though it's been very good to see people, the break was welcome. I had dinner at
Wagamama
's with the
Collaborans
, though, which included a pint of ginger beer and three scoops of ice-cream.
But I spent most of the evening
hacking on work stuff
, which might explain why
I dreamed about X
. I realised that part of my system isn't working because I'd made the elementary mistake of confusing
keycodes with keysyms
, so I worked on rectifying that. I also have some surprisingly dull work to do on the forthcoming book, which involves laboriously applying paragraph styles to several chapters. Many pages of this still remain to be done sometime today, unfortunately.
I am hoping to give a
lightning talk
on my work on
xzibit
at
GUADEC
. Today is the last full day I can work on the system (at least, on work time) before the conference, so I'd better use it well. Tomorrow is a training day.
Tonight, I'm hoping to see some of you in
the Carlton
.
---